a
Focus - New Chinese EW/ECM Aircraft GX-11 / Y-9G
New Chinese Electronic Warfare Aircraft for PLAAF based on Shaanxi Y-9 Transport Aircraft
An image appeared on the Chinese internet showing a new type of electronic warfare (EW) or Electronic Counter Measure (ECM) aircraft based on the Shaanxi Y-9 platform. The Shaanxi Y-9 aircraft is a transport aircraft produced by Shaanxi Aircraft Company in China. It was developed as an improved version of the Shaanxi Y-8F with greater payload and range. The Y-8F is based on Soviet Antonov An-12.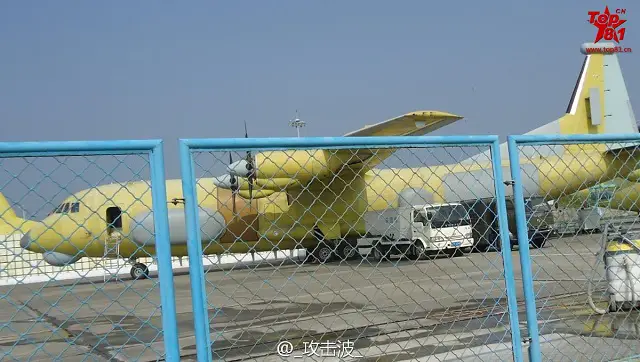 The new EW or ECM aircraft based on the Shaanxi Y-9 aircraft. Note the various fairings (in grey) fitted along the fuselage. They are likely high power, long range jamming devices.
This new variant of the Y-9 may be designated GX-11 or Y-9G. Based on the picture, it is fitted with six large oval antenna along fuselage, three more antennas on tailfin (two fitted vertically, and one at the top end) as well as a chin mounted device.

During a typical EW/ECM mission, an aircraft transmits powerful radio signals that disrupts the enemy's communications and radar systems. Jamming is accomplished by a platform transmitting signals on the radar frequency to produce a noise level sufficient to hide echos. Communications ECM is achieved by decreasing the signal-to-noise ratio to the point where the target communications link is either degraded or denied service.

The new GX-11 (or Y-9G) EW aircraft is likely being developped to replace the existing People's Liberation Army Air Force (PLAAF) Y-8G which is based on the older Y-8 platform.

GX-3 / Y-8G EW Aircraft. At least Five GX-3 are operating with the PLAAF
In its tactical transport variant, the Y-9 has a payload of 25,000 Kg a range of 5,700 km (3,700 nm) and a ceiling of 10,400 m (34,120 ft). Originally known as the Y-8X project, the development of Y-9 began in 2001 to produce a C-130J class transport to replace the older Y-8. The first flight occured at the end of 2010.

The Y-9 has now become the platform of choice for "special mission" aircraft of the PLAAF and PLAN (Chinese Navy) as five different variants have been identified in addition to the new GX-11 / Y-9G EW aircraft that has just been revealed. These aircraft are often refered as the "High New" series on the Chinese internet. Here is the list of the other variants:

PLAAF Y-9 Tactical Transport Aircraft. It is the base platform for new generation special missions aircraft of the PLAAF and PLAN
PLAAF KJ-500 AWACS (Airborne Warning and Control System) Aircraft
PLAAF KJ-200 AWACS (Airborne Warning and Control System) Aircraft
PLAAF Y-9JB ELINT (Electronic signals intelligence) and reconnaissance aircraft
PLAN Y-8FQ/GX-6 Maritime Patrol Aircraft